✔ Satisfaction Guaranteed
✔ 24/7 Customer support
✔ Risk-free 100% money-back guarantee
✔ Fast & secure payment with Creditcard & Paypal

Last Day Sale : Once We Reach 1000 Unit Sales, We Will Be Increasing The Price Back Up To $24.49!!
This curling ribbon for hair gives you a new healthy way to achieve those curls you love so much! Causing NO heat damage to your hair and giving you a natural wavy look that will catch everyone's attention!💞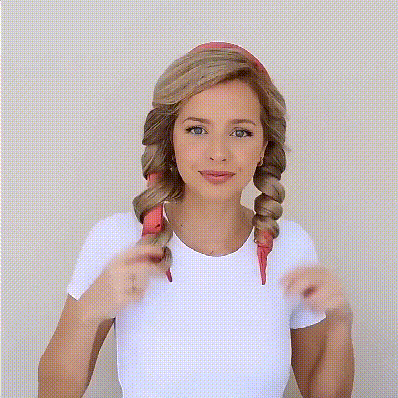 Researchers have found that curling irons can damage 85% of your hair's Keratin Proteins, causing it to become brittle and dry.😨
heatless curling ribbon will help you get curls that can last all day without damaging your hair. 🥰
A finishing product can be used after removing your heatless curling rod headband for a longer effect and to preserve your waves.😍
Our Satin curling rod headband has been tested and proves to work on both long and short hair.
For Short or layered hair we recommend that you twist your hair as you wrap it on the heatless curler headband to end up with a tight hold and avoid your hair from becoming loose.💘
Makes a perfect gift for any special occasion like a Birthday, Mother's Day, Valentine's Day, Christmas.❤️
HOW TO USE:
A curl enhancer is recommended. Part your hair in half from top to bottom and starting at the top of one of the sides, grab a small section of hair and wrap it around the overnight hair curler headband once (away from face) then add another section from the back and wrap both sections. Keep adding sections from the front and then the back in a pattern. Repeat on the other side and leave on for at least 6 hours.
Material: cotton, silk
Size: length 90 cm
Packaging: 1 curling iron and two hair rings, complimentary instruction card